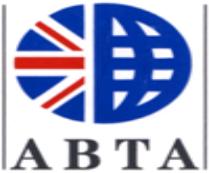 THE ASSOCIATION OF BRITISH TRAVEL AGENTS
The Association of British Travel Agents is the UK's Premier Trade Association for Tour Operators and Travel Agents. ABTA's 600 plus tour operators and 2300 travel agency companies have over 7000 offices and are responsible for the sale of more than 90% of UK-sold package holidays.
FINANCIAL REQUIREMENTS
The company/ business needs to demonstrate a minimum paid-up share capital or proprietorís/partners capital of £50,000.
BONDING
All members are required to provide a bond to reimburse clients in the event of the memberís financial failure. Those with retail activity will require a bond of no less that £50,000
click HERE to return to homepage